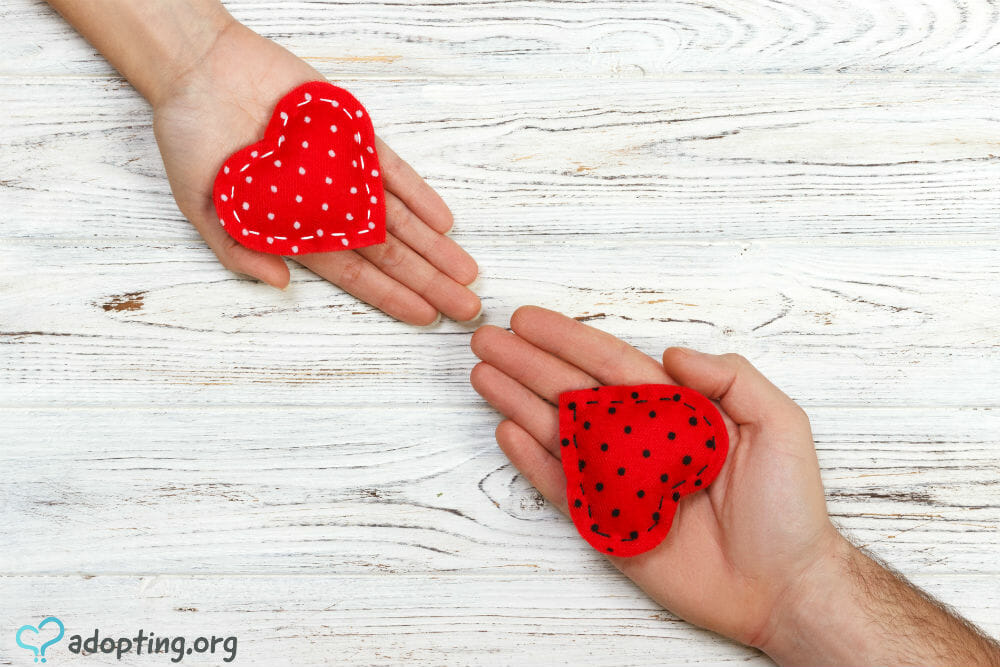 Every November is National Adoption Month in the United States. During this month various adoption advocacy groups hold events helping to bring awareness to issues surrounding adoption and to help improve the overall public perception of adoption. Despite the attention in the media in recent years for celebrities and other notable public figures who have built their families through adoption, there is still only a very small percentage of families in this country who have adopted children.
National Adoption Day is the high point of National Adoption Month. National Adoption Day falls on the Saturday prior to Thanksgiving, with more than 300 state, regional, and local events held on that day. Some events focus on general adoption awareness, some specifically on adoption from foster care, and some are events that serve as gatherings for families who have already adopted children. National Adoption Day is sponsored and organized by several adoption advocacy groups, including The Dave Thomas Foundation for Adoption, Congressional Coalition on Adoption Institute, Alliance for Children's Rights, and Children's Action Network.
National Adoption Day's focus is on raising awareness of the more than 100,000 children who are free for adoption, waiting in foster care for permanent families. It helps to bring a national focus to these children, and many foster to adopt families are able to formally adopt their children on that day. In total, more than 40,000 children have been adopted on National Adoption Day since its inception in 2000. The average time a child in foster care waits to receive a permanent adoptive placement is four years. That's four years of uncertainty, four years of changing schools and changing homes, four years of instability, and four years of seeking the unconditional love of a forever family.
More than 23,000 kids "age out" of the foster system every year without ever finding permanent homes. Many will not complete high school, and even more won't go to college. With little support and almost no resources, these children face far higher rates of unemployment, homelessness, substance abuse, and struggles with mental illnesses than their peers who were not in foster care. Truly, the reality for these children is often bleak. Some of the harrowing statistics about kids who age out of foster care include the following: [dfp_ads id=47]
After reaching the age of 18, 20% of the children who were in foster care become instantly homeless.
50% of former foster youth who age out of the system will be unemployed by the age of 24.
There is less than a 3% chance for children who have aged out of foster care to earn a college degree at any point in their life.
70% of girls who age out of the foster care system become pregnant before the age of 21.
60% of young men who age out of the foster care system have been convicted of a crime.
About one in four kids who age out of the system will not graduate from high school.
With these sobering statistics in mind, it becomes evident that a greater push is needed to ensure children in foster care receive permanent adoptive homes, thus why National Adoption Day was created.
In recent years, social media has become a huge part of National Adoption Day. Adoption advocacy groups, adoption agencies, adoptive parents, and adoptees alike all often share their thoughts on how adoption has impacted their life on National Adoption Day. Some share their own adoption story, talk about their journey as adoptive parents, and agencies and advocacy groups share facts and figures that help dispel the myths surrounding adoption and help to highlight the truly pressing needs of children currently in the foster care system.
Many new families who finalized adoptions on National Adoption Day share pictures from their courtroom experience. For many families, this is the first opportunity they have to share pictures of their children on social media, as most foster agencies forbid foster parents to share images of foster kids online for safety reasons. One recent trend is pictures of the children who were adopted holding up signs saying how many days they were in foster care and how many days they were in their new families' homes before they were able to be formally adopted. It is both heart-warming and truly sad to see images of children who were in foster care for years before finding a family.
This highlights the need for families willing to adopt from foster care. There are a number of myths about foster care that dissuade people from adopting, which organizations take the time on National Adoption Day to try to dispel. Many people think adopting from foster care is expensive, or that you need to be wealthy or "perfect" to pass the "test" to become foster parents. This isn't the case, and in fact, adopting from foster care is generally free or very low cost. The types of people who adopt from foster care vary wildly in terms of their family size, religion, and economic status. Truly, the only solid and sure requirement for people looking to foster or adopt from foster care is that you have space in your heart and home for another child. People also have assumptions that are incorrect about children in foster care. Many people think that children in foster care all have severe mental, emotional or physical handicaps or disabilities. While it is true that many children in foster care have complex socio-emotional needs stemming from early trauma or neglect, children who are in foster care are there because their parents failed to adequately and safely provide for them, not because the child did anything wrong or because they are in some way "defective." Like all children, when given a stable, loving environment, children in foster care are just as capable of thriving. National Adoption Day is a day to both celebrate adoption and highlight areas of adoption that need improvement, particularly the needs of children in the foster care system. From in-person events to social media initiatives, National Adoption Day is the culmination of National Adoption Month and a wonderful opportunity for adoption advocacy groups to help the general public learn more about the need for adoption in the United States. On National Adoption Day, many former foster children become permanent members of loving families, and other members of the adoption community come together to celebrate all that adoption has brought to their lives.
Considering adoption? Let us help you on your journey to creating your forever family. Visit Adoption.org or call 1-800-ADOPT-98.