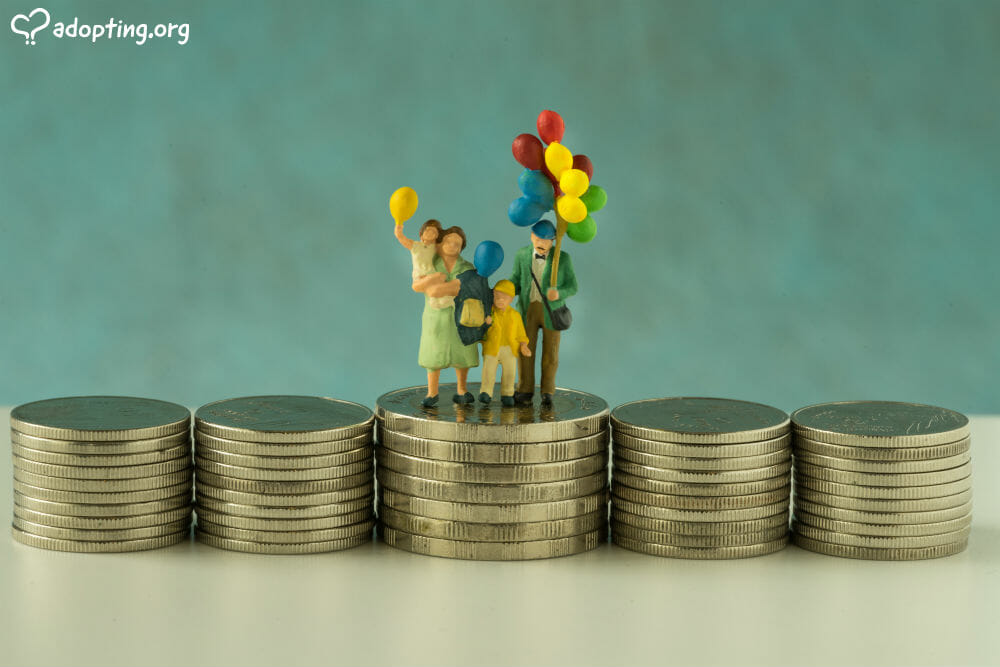 "How much does it cost to adopt a child?" is often the first question asked in most adoption scenarios. Whether the question is posed to an adoptive parent, adoption professional, adoptee, or on an adoption blog, the question is usually meant to be one of sincerity and curiosity. The hard reality of the question, "How much does it cost to adopt a child?" is that there is no single answer to satisfy it. This is even truer when it comes to the varying adoption types. To answer the question, "How much does it cost to adopt a child?" we really have to speak in general and look at the different adoption situations you might pursue.
When attempting to answer the question, "How much does it cost to adopt a child?" the person at whom the question is directed must know what kind of adoption you are talking about. The three main types of adoption are international, domestic, and foster care adoption. These are just the three main types. There are other types of adoption such as stepparent and kinship adoption, just to name a few. With each of these adoption types there comes varying costs depending on the factors involved in the adoption, the adoption professional used, and the state in which the adoption is taking place.
So, how much does it cost to adopt a child internationally? With international adoption, there are many different costs that might be involved. The first of these costs will be the adoption agency or adoption attorney fees. These fees will include the home study, application, and legal costs. There will also be costs for an FBI background check for those over 18 in the household as well as fees for post-placement visits. It is the fees that come after the initial legwork is completed that often make international adoption so expensive. International adoption can easily exceed $40,000 due to fees that adoptive parents will incur to be accepted for adoption from another country and to bring their child home.
There will be fees for the documents needed by the other country, fees for agencies involved overseas, and travel fees for both you and your child. Lodging and food will also need to be funded before making the trip to meet your child. There may be multiple trips to the host country involved. There are times that you may not be sure how many times you will need to visit the child's host country nor for how long you will need to stay. For these reasons, international adoption costs can vary greatly, so greatly that it is difficult to pinpoint exactly how much it will cost.
Next, how much does it cost to adopt a child domestically/privately? For domestic adoption, which typically involves the adoption of an infant, your costs will vary particularly based on the situation under which your adoption is occurring. Regardless of this situation, you will be subject to fees for the use of an adoption professional or adoption agency depending on your state. You will pay a home study fee as well as a fee for post-placement visits. If you self-matched with a birth mother, you may be able to save some funds as you will not need to pay a match fee. If the birth mother has qualifying pregnancy-related expenses that need to be paid, you may be obligated to pay for these expenses during the pregnancy and sometimes for a time after the birth of the child. Some states have caps on how much can be paid for these expenses. You can view more about the rules for your state here. With all of these costs, domestic adoption can range from $15,000-$30,000+. The cost can initially be overwhelming, but it makes more sense once each fee is broken down into its own part. There is also the likelihood that the money will not be due all at once, but rather in increments during your adoption journey. [dfp_ads id=47]
Lastly, how much does it cost to adopt a child through foster care? For adoption from foster care, the cost is typically little to none. There are thousands of children at any given time in foster care who are in need of a forever home. Because of this, each state often has a system in place to help take care of the cost of the adoption requirements and proceedings in a foster situation. The goal of these systems is to allow these children to find homes more efficiently and for adoptive families to not have to navigate the financial hurdles that often come with adoption. While those adopting from foster care will still have to go through the training and home study process in order to adopt, adoption from foster care is a great option for those who are unable to cover the cost of domestic or international adoption.
While domestic and international adoption seem incredibly daunting to undertake due to their high costs, it is certainly something most can achieve. There are ways to afford adoption without going into mounds and mounds of debt. Fundraising is becoming an incredibly popular way to fund an adoption while also getting your family and friends invested in your adoption journey. There are a ton of ideas for low-cost fundraisers that can be found all over the internet. A quick search on Pinterest will give you many promising ideas of ways to fund some, if not all, of your adoption.Crowdfunding using sites such as GoFundMe are also popular, as there is no upfront cost at all to ask for help. Many family and friends may want to assist in your adoption journey once they hear about it. Crowdfunding is a simple way not only to raise money, but also to keep your family and friends updated on your adoption journey. While crowdfunding seems like a no-brainer, it is unfortunately not always well received by others. It is important to notify your adoption professional if you decide to utilize this option. There are many people who have negative opinions about crowdfunding for adoption and certain rules pertaining to this process. It is best to check with your adoption professional first and also be prepared to deal with possible negative comments about your fundraising avenue.
Do you feel there is a hole in your heart that can only be filled by a child? We've helped complete 32,000+ adoptions. We would love to help you through your adoption journey. Visit Adoption.org or call 1-800-ADOPT-98.