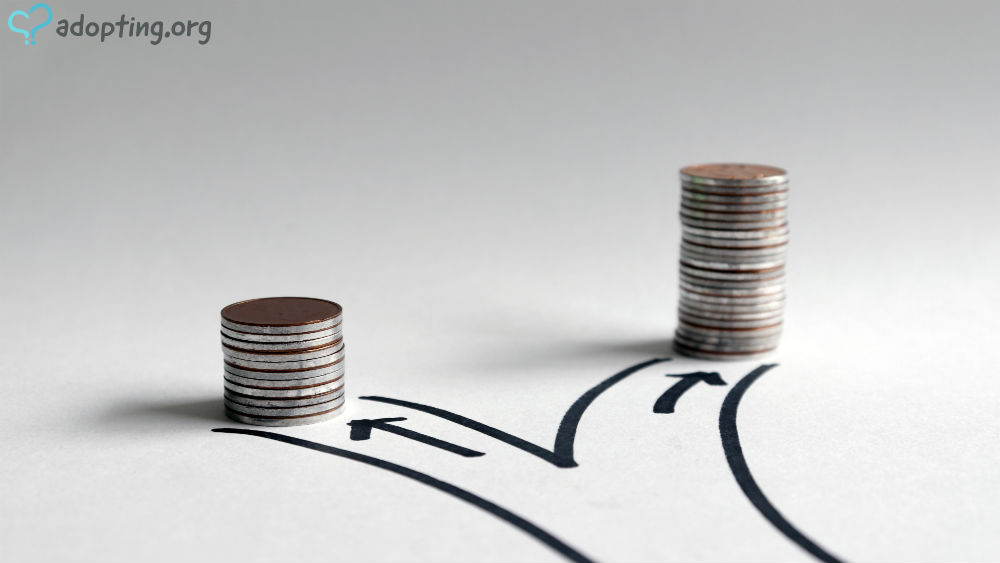 The cost of adoption is a subject that many broach with trepidation and disbelief. Adoption is generally expensive in the eyes of most. There are poignant reasons for this expense, yet it does not make the shock of the expense any less. Luckily, there are many ways to afford to adopt and many systems in place to make adoption possible for most. Breaking down the cost of adoption and sorting through the many options for absorbing the costs will be one of the first steps in the adoption process.
International
International adoptions typically have the highest costs in comparison with other types of adoption. The total cost of adoption internationally can easily exceed $50,000. These costs include agency fees, travel for you and your child, food, lodging, and various other documentation and country fees. These fees can vary agency to agency and country to country. These fees will also include home study fees and unexpected fees that might arise during your adoption journey. For more information on how these costs might break down, you can read more about the various fees and see a sample fee schedule here.
Domestic
Domestic adoption, typically involving infants, can also widely vary in cost depending on the circumstances involved in the adoption. The cost of adoption in this situation typically ranges from $11,000–$30,000 or more depending on the states involved in the adoption and the fees for adoption professionals. If you have self-matched with a birth mother, your fees will likely be less due to no need for an adoption professional to find a match for you. In this case, you would also not need to utilize any advertising service such as the parent profiles featured at Adoption.com.
[dfp_ads id=47]There are multiple other fees associated with domestic adoption that may differ from other types of adoption. There will be fees for a background check for everyone over 18 in the household as well as a large fee for the home study process. There will also be post-placement visits once your child is home that often cost close to the amount of the home study. The home study and post-placement fees typically average around $1,500 each, though this price may vary considerably agency to agency. You may also be required to pay birth mother expenses. These expenses are typically only related directly to the pregnancy such as maternity clothes, medical care, and sometimes various living expenses. These expenses are typically regulated by the state.
Foster
The cost of adoption in regards to foster care is often incredibly attainable, if not completely free. Due to the dire need to find forever homes for foster children, the cost of adoption from foster care is often a burden that the state takes on and is funded through the state directly. Though these costs are covered by the state, some adopting from foster care may choose to hire an attorney to help them navigate the legal proceedings. This is just extra assurance to make sure that their interests are best represented and that the process is as expedient as possible. Foster care adoption is a great option for those who do not have the means to seek infant or international adoption options.
Grants
There are many grants available that may help offset the cost of adoption. One of the best ways to find some of these grants is with a simple online search. It is also often wise to ask your adoption attorney or agency if they are aware of any grants that might be available and also attainable based on your adoption situation. It is important to note that many of these grants require that you already be approved to adopt before you become eligible. This typically means that you will need to have your home study already completed and approved before you can be eligible for a grant. The amount of these grants will depend on the organization that is providing the grant, though I have mostly seen them range from $1,500-$5,000.
Loans
While most people do not want to take out or accept loans, it is sometimes a necessary evil to offset the cost of adoption. However, in some cases, it can also be the most sensible option. There are organizations the specialize in very little to no interest adoption loans. A no interest loan can be great option to someone who can afford a monthly payment in their budget. You may find it easy to add around $200-$300 a month into your budget rather than one bigger upfront payment. Check with your local banks for interest rates on personal loans. You may find that the interest rate and payment window are very doable. Compare rates to make the best decision if you decide to go this route.
Crowdfunding/Fundraising
Crowdfunding sites such as GoFundMe have become incredibly popular over the past few years with many different financial needs such as medical bills and even adoption. Crowdfunding and fundraising are great ways for your family and friends to help you offset the cost of adoption and also to contribute to your growing family. While people are often happy to help in these situations, crowdfunding or fundraising does not always go over well. It sometimes opens you up to the judgment of others if, for example, you are raising money and they see you make other purchases such as a new car or house renovations. Others have expressed that this money could be spent to help birth families be supported and be able to parent their child. It would also be advisable to inquire with your attorney or agency about the use of crowdfunding. Some judges frown on this avenue being used as a way to fund an adoption.
No matter your feelings on the avenue you use to fund your adoption, keep in mind that others will have opinions. Make the choice that you will be able to stand firm in and that is attainable for your financial situation.
Considering adoption? Let us help you on your journey to creating your forever family. Visit Adoption.org or call 1-800-ADOPT-98.