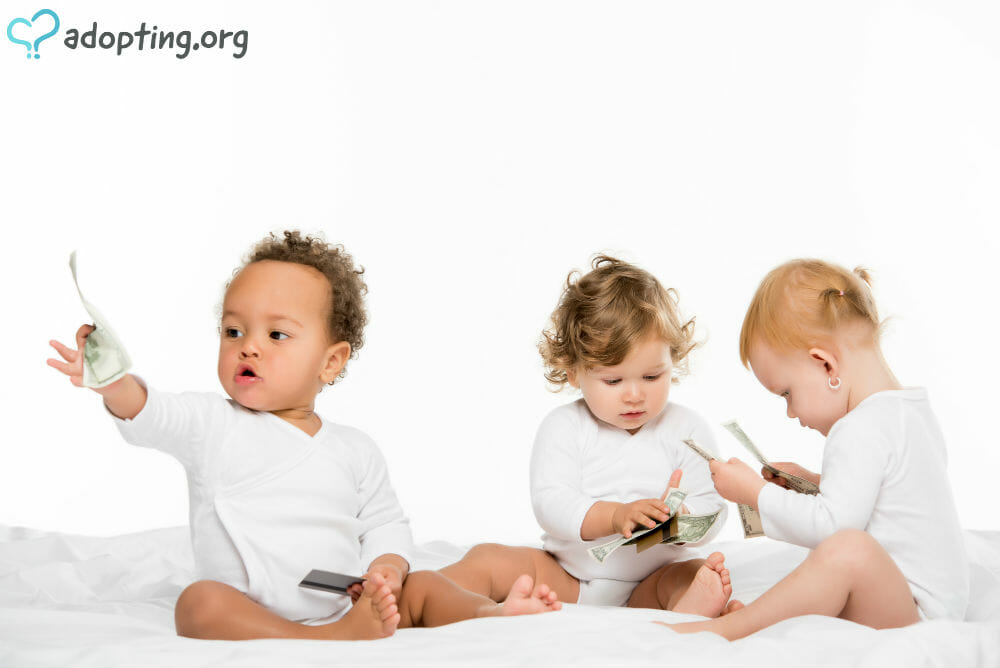 One of the first things most people considering adoption wonder is, "How much does it cost to adopt a baby?" Well, there's no one exact amount, and the answer to that question will vary depending on a number of factors. The type of adoption you pursue, the length of the adoption process, the distance you will have to travel, and more will factor in when answering the question, "How much does it cost to adopt a baby?"
When most people ask the question, "How much does it cost to adopt a baby?" they are thinking of domestic infant adoption. In domestic infant adoption, the expectant parent or parents willingly relinquish their rights to the child shortly after birth. How long after birth they are able to do so depends on the state. This process is referred to as "TPR" in the adoption community, which stands for termination of parental rights. In some states, after the TPR paperwork is signed, it is irrevocable, meaning the birth parents cannot ever, at any point, change their mind about placing their child. Some states have periods after TPR where birth parents can decide to regain custody. Sometimes this is a few days, and in some states, it can be up to a month. During this revocation period the baby is in the care of the prospective adoptive parents, or occasionally agencies will have a third party caring for the baby, and the adoptive parents will take guardianship once the revocation period ends.
You are probably considering all this and wondering if it affects your original question, "How much does it cost to adopt a baby?" If a state has a long revocation period, the adoptive parents will have to remain in that state until the revocation period is over. This means that if you are from one state, but adopting from another state with a long revocation period, you can expect to spend more in travel expenses and to not be able to return to work as quickly as you would if you adopt from a state where TPR is immediately irrevocable.
In general, adopting from any state other than your own adds expenses since there will need to be more in terms of travel expenses. There will also need to be lawyers and social workers in each state who process your adoption paperwork. This process is known as ICPC (the Interstate Compact for the Placement of Children). Both states, your home state and the state you are adopting from, must check through all your paperwork and ensure that your home study fulfills all the requirements of both states. This process can take anywhere from a few days to several weeks. Again, while this is taking place you cannot leave the state—so that's even more in the way of travel expenses.
But, before you even get to the point of placement and thinking about travel expenses, there are several expenses you will incur upfront to even get started with the domestic infant adoption process. First, every prospective adoptive family must complete a home study. Depending on your area, home studies generally cost between $1,000 and $3,000. During the home study, you will complete background checks and have interviews with a social worker who will come to your home. Many people worry that they'll be going through your home with a white glove, but this isn't the case. The social worker is mainly interested in ensuring you will be safe and responsible parents and that your home is safe and has enough room to accommodate a child. The home study is nerve-racking for most first-time adoptive parents, but you should go into it knowing that your social worker wants to see you succeed and can be a tremendous source of information and support throughout your adoption process.
Another step that will cost you some change is signing up with an agency or lawyer. In order to retain their services and become a client, you need to pay a fee. That's just the way the world works these days! Some agencies and lawyers have low upfront costs, but some can charge $10,000 or more just to officially contract with them.
You'll also need to pay to create a profile book. A profile book is a collection of photos and short pieces of writing which can help an expectant parent get to know you. Since expectant parents generally select the adoptive parents in domestic infant adoption, they want to know as much as possible about the potential adoptive families. Where you live, what religion, if any, you practice, your hobbies, and even things like your favorite TV shows or favorite foods are all pieces of information that can help an expectant parent connect with you. [dfp_ads id=47]
In general, expectant parents select adoptive parents not only by who they feel will provide their child with a wonderful life, but also by how much they have in common with them. Perhaps you are a high school English teacher, and English was the expectant mother's favorite class in high school. Maybe you include pictures from your travels to Italy, for example, and the expectant parents are of Italian heritage. You never know how what you choose to include will resonate with an expectant family, so this is one area where you want to make sure you are spending your money wisely to end up with a good finished product. Some agencies will also have you create profile videos and websites, all of which, you guessed it, are added costs.
Overall, the highest amount you will pay when adopting an infant goes to lawyers, agency workers, and social workers who oversee the actual adoption process. Most agencies have a flat fee of some sort that then gets distributed amongst the various individuals you will work with during your process. Lawyers tend to have their own separate fees, generally billing per hour. Much like with TPR and ICPC, every state has different requirements for how long it takes and what it takes to finalize an adoption, so if you adopt from a state that requires more work for the lawyer finalizing your adoption, it will cost more.
Other expenses incurred during the adoption process include fees that go towards the expenses of the expectant parent. This can be confusing to some people, as it might seem like you are paying the expectant parent in exchange for their child, which is definitely both unethical and illegal. You are not going to be handing them cash; your lawyer or agency will pay for their expenses such as doctor's bills and basic necessities while they are expecting and for a period of time shortly after placement. Consider this as an investment in the health of your future child; if the expectant mother is able to receive prenatal care, live in a safe environment, and have less stress about making ends meet, your child will reap many health benefits in the future. So, now you have pieced together all that is involved, cost-wise, with adopting a baby, but you are probably still wondering, "What's the bottom line? How much does it cost to adopt a baby from beginning to end?" The average cost of domestic infant adoption with an agency or attorney is anywhere from $20,000 to $40,000. Each lawyer or agency has their own set of fees, and while this can seem like an overwhelming number, remember, you are paying them to execute a complicated legal process. To some extent, the adage, "you get what you pay for" applies in adoption. You want to make sure you are working with a reputable, ethical adoption professional, and in some cases, unfortunately, this means your best choice overall will not be the cheapest choice.
Are you and your partner ready to start the adoption process? Visit Adoption.org or call 1-800-ADOPT-98 to begin your adoption journey. We have 130+ years of adoption experience and would love to help you.