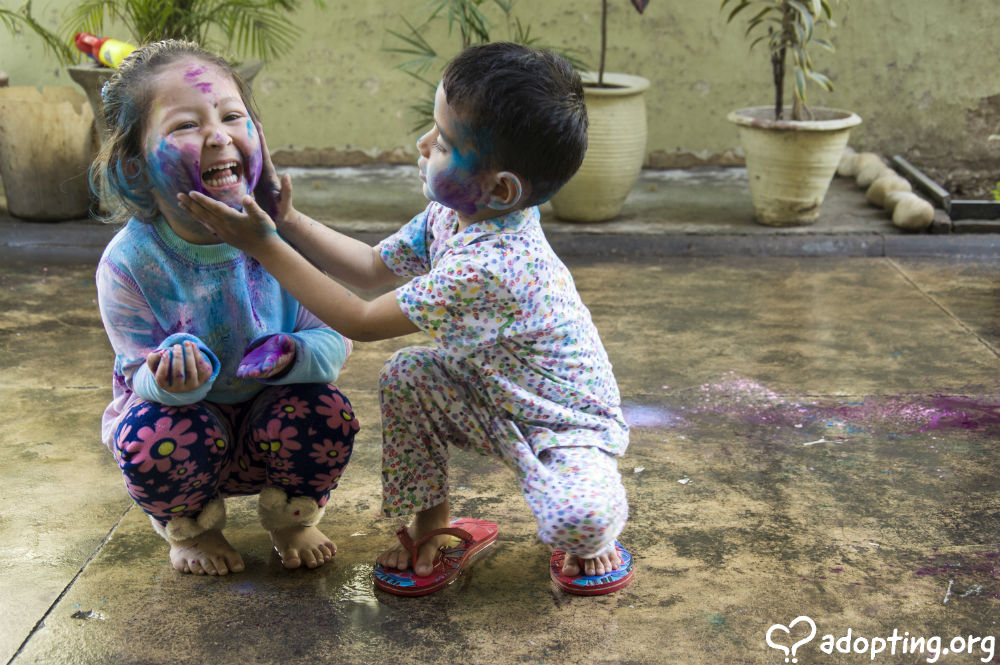 India is a large, beautiful country located in South Asia. It is the seventh largest country in the world and the second most populated. It is also home to the world largest democracy. It is particularly impressive as India is made up of 29 different states and seven union territories. Each state functions like its own country with its cultural traditions, religion, rules, regulations, and language—there are 22 official languages recognized by the Indian constitution, but dozens more exist. India is a multilingual, multiethnic, multireligious society, so child adoption in India can be quite complex.

The history of child adoption in India began in 1890. Under the Guardians and Wards Act, courts were allowed to appoint a guardian for an orphaned child. This was particularly revolutionary as the 1890 Act was a non-religious universal law pertaining to the guardianship of a child. In 1956, religion played a part in adoption under the Hindu Adoption and Maintenance Act. Under this act, all Hindu children eligible for adoption must be adopted by practicing Hindu parents. In 2000, the Juvenile Justice Act overturned the Hindu Adoption Act and, like the 1890 Act, allowed for the adoption of any eligible child to any prospective adoptive parent, regardless of religious beliefs. The Juvenile Justice Act was amended in 2015 to be even more secular and to formally allow for the adoption of Indian children to international families. Until 2015, there was no formal law regarding international adoption. The 2015 Act also established the Child Adoption Resource Authority (CARA) as the country's central adoption authority. Through CARA, all institutions providing care for children were formally registered and a more streamlined database of available children was established. From April 2017 to March 2018, the most recent time frame from which data is available, 3,276 in-country adoptions and 651 intercountry adoptions in India occurred. In 2017, 221 intercountry adoptions occurred from India to the United States.

Children available for adoption in India are between infant age to 18, with the average age of intercountry adoption between 18 months and 4 years old at placement. Children reside in state-run orphanages, which are monitored by CARA. Both healthy children and children with special needs are available for adoption, depending on the prospective adoptive parents' status. Sibling groups are possible and are classified under special needs adoption.

In India, there are three types of adoption possible. Intercountry, NRI (Nonresidents of India or of Indian origin) / OCI (Overseas Citizen of India), and domestic adoption. Prospective adoptive parents pursuing any type of adoption in India must have a combined age of less than 90 years to adopt a child under 4, a composite of 100 years to adopt a child between age 4 and 8, and a composite of 110 years to adopt a child between age 8 to 18. A minimum of 25 years age difference is required between the prospective adoptive parents and the prospective adoptive child and single parents are welcome to adopt. No more than three children may reside in the home, and prospective adoptive parents must be financially, physically, and emotionally stable with no major health conditions.
The process of child adopting in India begins with a home study. Prospective adoptive parents will work to complete the necessary paperwork, background clearances, and fingerprinting. Then apply to be accepted into their agency's India program. Upon acceptance, families complete a country-specific dossier and submit an I-800A form to USCIS (United States Citizenship and Immigration Services) to be found suitable by the federal government to adopt a child and bring them into the United States. The agency will submit the dossier to CARA for registration and approval. Upon approval from CARA, the prospective adoptive parents will be registered on the CARINGS website and will be eligible to be matched with a child. Prospective adoptive parents may choose the gender of the child they wish to adopt, the age range, and even from which State they are interested in adopting. It is important to note, however, that the more open a family is to gender, age, and location, the shorter the wait will be. India is a Hague Convention country so per the terms of the Convention, every attempt must have been made to place the child domestically before the child is eligible for intercountry adoption. As a result, most children available for intercountry adoption have special needs that range from mild/medically correctable to more severe, lifelong challenges. The current wait time for a referral for a child with special needs is zero to six months. Prospective adoptive parents who are NRI/OCI may choose to pursue adoption with their agency via the Heritage Track. India allows NRI/OCIs to adopt healthy children after the children have been made available to resident families for a period of 60 days. The timeline for a referral in the Heritage Track is approximately eight to fifteen months.

After a family receives a referral, they will review it with their agency, social worker, and an international adoption doctor. Children who have resided in institutional care are often developmentally delayed so it is important to have a specialist evaluate a referral as the specialist will be able to look at the referral through the lens of international adoption. During the evaluation of a referral, a family may choose to visit the child in India, to make their final decision, but such a visit is not required. If the adopting parents have family in India, occasionally some arrangements may be made for the extended family to visit the child at the orphanage. Another option is to have a medical doctor visit the child's orphanage to assess the child if there are any questions in the child's original referral. Evaluating a referral takes time, and India allows one to four weeks for assessment. It can be hard to decide if a child is the right fit for a family and turning down a referral can be tough. If the family chooses to accept the referral, they will complete the acceptance paperwork then await Article 5 and NOC.

Upon accepting a referral, families will complete an acceptance dossier, then apply for and receive I-800 Provisional Approval, which is the approval from USCIS to adopt a specific child. This step can take anywhere from one to two months. Once 1-800 Provisional Approval is received, families will complete form DS-260, which is an online Immigrant Visa Application. These steps are all a part of the Hague process to ensure the ethical and legal intercountry adoption of children. The visa application is reviewed by the U.S. Embassy, who then issues an Article 5 to CARA. An Article 5 Letter essentially states that a family has been found suitable to adopt by the U.S. government and approved to bring a child into the United States. CARA passes Article 5 on to the child's orphanage, who then uses the letter to apply for a No Objection Certificate (NOC). The NOC is issued by CARA for the adoption of the specific child(ren) by the specific adoptive parents. This process can take anywhere from one to three months.

The agency will notify the family once NOC has been issued. At this time, the orphanage will file the adoption case in court. The court process in India is the most unpredictable in the adoption process as each court is run at the State level. Though CARA is working to educate courts throughout India, many regional courts remain unfamiliar with intercountry adoption. Some cases may take nine months, while others pass in one month. Most agencies site the average timeline to be within two to five months. During this time, a good agency will do its best to keep families updated as to the status of their court date. In CARA's bylaws, it is stated each intercountry adoption case must pass court within two months, but this is seldom the case. CARA does encourage families to file grievances should their case appear in two or more hearings before a judge without a decision being handed down. Some States, such as Telangana, require prospective adoptive parents to appear in court, and occasionally a regional judge may require prospective adoptive parents to travel to court. Like the timeline for court cases, CARA has guidelines that state an orphanage attorney is able to represent the prospective adoptive parents (through a Power of Attorney signed by the adoptive parents) in court. But some regional judges maintain that the courts are separate from CARA and therefore not subject to CARA's rules and regulations.

After a judge rules in favor of the adoption, the judge will issue a Verbal Approval. Written Approval is received generally two to three weeks after Verbal Approval. Once Written Approval is issued by the judge, the orphanage will use this document to apply for the child's passport. At this time if a family wishes to change the child's name, they should do so to ensure the visa and certificate of citizenship will appear in the child's new name. With the court issuance of Written Approval, the child is now legally a member of their new family. It may be tempting to jump on the next plane to India, but it is a good idea to wait until the agency gives the green light. Passports may be backlogged, and the Adoption Decree may take some time, so waiting until the word is received that the orphanage has the passport and necessary paperwork in hand will save time and money.

When it comes time to travel, the orphanage and the family will coordinate the best time for the family to come and meet the child. A handing over ceremony will take place, and often the orphanage likes to invite local government officials to attend the ceremony. Typically, families arrange to travel one to three weeks after being cleared to do so by their agency. The time in the country is a wonderful, and families can expect to stay a few days in their child's home State, visiting the orphanage, meeting the staff, and learning about their child's first months/years of life. Plan to take many pictures and keep notes for inclusion in a life book later on. All U.S. families will then travel to Delhi, where the U.S. Embassy is headquartered. Families will need to complete a medical appointment in Delhi and then apply for their new child's visa to the United States. While at the Embassy, families will receive their Hague Certificate of Intercountry Adoption as well as the child's U.S. visa. Expect to spend at least three days in the child's home State and seven to ten days in Delhi.

Upon entering the United States, the child will become a United States citizen. Families can expect to receive a Certificate of Citizenship within a few weeks, and a social security card a few weeks after that. Child adopting in India requires several post-placement reports at three, six, nine, 12, 18, and 24 months. The first few reports will be filed by the agency, but families can self-report for months 12, 18, and 24. Though the first few months at home can be chaotic, families should be sure to file their post-placement reports. Post-placement reports are very important and ensure a strong future for India-U.S. adoptions.

The cost to adopt from India is between $25,000-$35,000 depending on the agency choice and travel plans. Per the Hague Convention, all agency and estimated travel fees must be disclosed prior to a family joining an agency's country program.

Families interested in adopting domestically in India have a very different process than those pursuing NRI/OCI or intercountry adoption. For domestic child adopting in India, the adoption of a healthy infant is possible. That said, families with more than three children may only adopt through CARA's special needs program. Prospective adoptive parents adopting domestically will begin the process by registering directly with CARA through the Child Adoption Resource Information and Guidance System. They will select which State(s) they desire to adopt from, and upon completion of their registration, necessary home study, and paperwork, the family will receive a registration number. The referral of a child takes place based on seniority, and families may follow their progression through CARA's website. The current wait time for a healthy infant is between one to three years.
Considering adoption? Let us help you on your journey to creating your forever family. Visit Adoption.org or call 1-800-ADOPT-98.