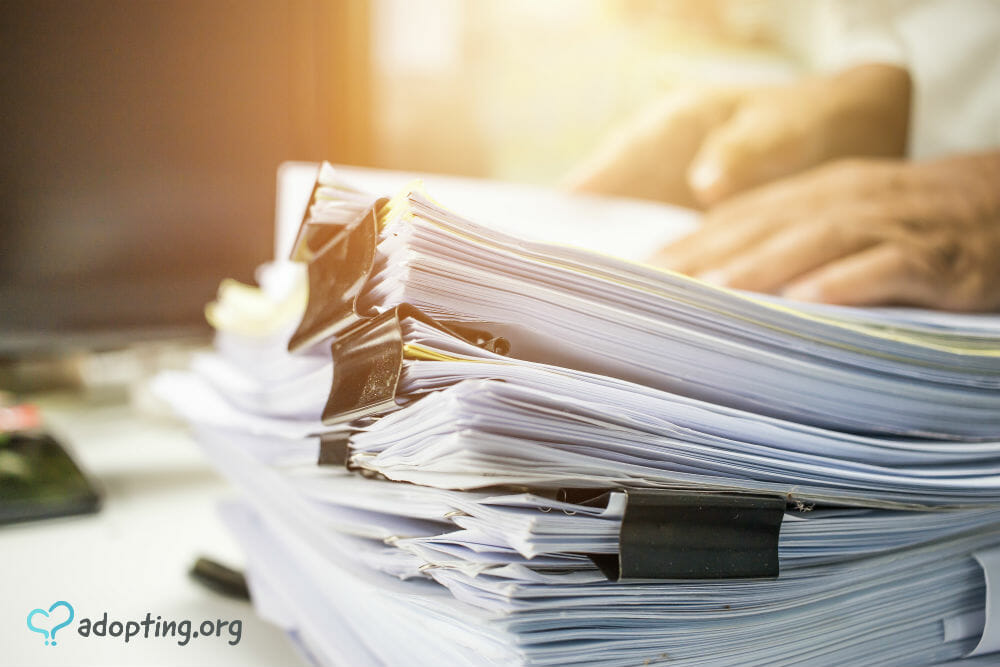 Many prospective adoptive parents are nervous at the amount of paperwork adoption requires. Once one wave of documents have been filed, another one is passed along for filling out, signing, and notarizing.

As overwhelming as it seems, there is a way to wade through the oceans of adoption papers you are blessed with during the process. You can begin by getting yourself organized before you start by collecting some important documents.

Home Study Adoption Papers

Most of the papers you will need during the adoption process have to be collected for the home study. Many agencies start you out with an application that involves a small fee. Your marital status, income, age, place of residence, and reason for adoption will give the agency a good idea of whether or not you and/or your spouse are good candidates for pursuing an adoption with them.

After a home inspection and a few interviews both in and outside your home, your agency or social worker will write up an official home study report. If your agency is in a different state, an adoption agency or caseworker in your area may be asked to visit with your family to talk with you about adoption in person.

The home study report will give some general information about your family such as your professions, hobbies, interests, special training, and extended family. It will describe your parenting style and activities you would like to share with your future children. Any unique strengths that your family has will be cited for birth mothers to look over when they are considering adoptive families. It is also an opportunity for you to make any specific requests in terms of age, gender, and number of children.

Before beginning your home study, it is a good idea to get three copies of your birth certificate which is available in the capital city in the state of your birth. You should also have at least three copies of your marriage certificate available. If applicable, you should also have copies of your divorce certificates.

In order to prove your ability to support a child financially, you will need a one-page, typed certificate of your assets, including bank balances and holdings. Some agencies will require you to back this up with bank statements and copies or mortgages or leases.

You should also get a letter from your employer stating your position with them and the fact that you are an employee in good standing. It should include your salary and length of employment. This document needs to be notarized. Many local banks have free notarization services, and you can check their websites to see when a notary will be available to sign and emboss your documents. If you are adopting internationally, it is a good idea to return to the same notary each time because documents will later need to be apostilled. This means that you will need to verify the signature of the notary, and using the same one will save you some driving time.

You can collect proof of your employment by getting pay stubs from your employer. You should also have proof of your health insurance and life insurance policies.

[dfp_ads id=46] Most agencies require three letters of reference from nonrelatives. Employees, clergymen, or community members should be able to attest to your strong character, follow-through on commitments, and enthusiasm for adoption. Some adoption agencies will provide you with a template for these letters while others will allow your references to structure them themselves.
Your agency may also require you to provide an autobiographical statement. You will be asked to talk about your childhood, your values, your accomplishments, and your plans for he future. It is important to personalize your biography. If you are adopting domestically, similar thoughts or warm memories can endear you to a birth mother who has many applications to choose from.

International Adoption Papers

If you are adopting domestically, you will take your child home once he or she is born, and adoption papers will be filed by a court judge within a year.

If you are adopting internationally, the process is a little more involved. All notarized papers will need to be apostilled, which means that you will have to get them verified in the counties in which the notaries are registered. There are professionals who can help you with this process if you do not have the time.

Next, all of your papers will be sent overseas in the form of a dossier, which will be used by the officials in the country you are adopting from to help match you with an appropriate child.

Once matched with a child, you will need to fill out an I-800A form, the Application for Determination for Suitability to Adopt a Child from a Convention Country. When you file, USCIS will officially approve you for adoption. Before you make your final trip to your child's country, you will need to complete an I-800 form (the Petition to Classify Convention Adoptee as Immediate Relative). This paperwork starts the finalization process by determining whether or not the child qualifies as a convention adoptee.

After you travel, you will need to wait for the adoption to be finalized before you can obtain a visa for your child. You may also need a passport before returning home as a family.

The paperwork involved in adoption is lengthy. You will forget all about it, however, after you have created a new home for your child.

Visit Adoption.com's photolisting page for children who are ready and waiting to find their forever families. For adoptive parents, please visit our Parent Profiles page where you can create an incredible adoption profile and connect directly with potential birth parents.
Considering adoption? Let us help you on your journey to creating your forever family. Visit Adoption.org or call 1-800-ADOPT-98.